WITCHI TAI
is
MYSTIC WIND'S DEAD CAN DANCE
FOR SALE:
$400.
Son of Sukattuq & Pahnik
Born 7-31-09.
Click on Sukattuq or Pahnik in red
to see his parents profiles & photos.
WILL BE: 75-85 LBS full grown. Shoulder height of 25".
Pronounced : Witch-a-tie
Temperament & Description:
Sweeter then apple pie! This is a GREAT dog with a heart of gold who knows he was given a 2ND chance in life. He grew up playing with our kittens, NOT dog aggressive, GOOD with CATS, GOOD with children of all ages, GOOD with all animals. WILL counter surf anything right on the edge. DOES NOT get into the trash of bags of dog food. IS trained not to bark excessively. Would die before he potty's inside. Intelligent AND adorable. A real piece of eye candy. His pictures don't do him justice. Always approaches you with his ears flat back against his head and butt wiggling, eyes smiling. Prances around the house like a beauty queen in a beauty pageant. Short and stocky with gold eyes like his father, "stompy" playfulness like his mother, no prey drive like his father. Slightly longer then standard coat (not a woolly though). EXCELLENT movement and conformation gait (conformation means show dog). Sits nice at attention. Never pretends to not hear you. Stands at attention and marches all four feet in place. He is pure gold inside and out. Barely has feet, his thick furry legs seem to just end, much like a show dog's. He is conformation to a T. Beautiful, lustrous, thick fluffy coat. 100% Potty trained.
Indoor/ Outdoor dog. Never leaves the yard. Has been crated for short periods. Lives inside or in the yard free roaming during the day, sleeps in his own outdoor kennel run at night. Not a jumper with his kennel. Not a digger. NOT rebellious in the least. Total lover. Only needs to be told NO one time and never does it again. Never scared of people or new things, very social and playful. Very smart (as in common sense, he doesn't go near the road and so on). Eager to please.
This pup does not have a rebellious bone in his body. Anyone who's had to raise a Malamute from a pup knows what a plus this is! If you look at our past puppies page, his siblings are the 1st few pictures. His brother Frost Vidahr is the first one. This was an excellent litter, and the best one I've bred in every way. They all turned out with phenomenal temperaments and got the looks! Witchi Tai is short and built like a truck. No scrawny husky legs or features here. This boy is 100% conformation Malamute. Pahnik throws some drop-dead beautiful pups that are a complete JOY to live with, total ease of training, never vindictive, and "sweet as apple pie" personalities, like you'll find in show dogs, for half the price. His siblings were $1,200. a piece. Because Witchi Tai is older (6 months) when we decided to home him, he is all the same excellent dog for 1/3 the price. PLUS potty trained!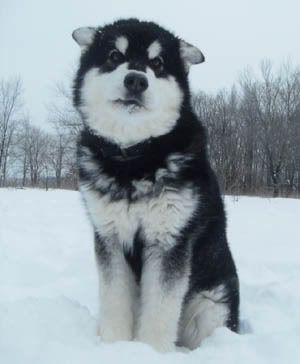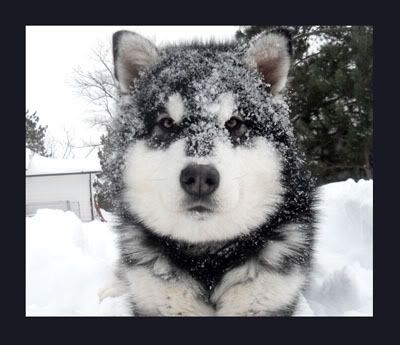 14 wks old.


14 weeks, with his father Sukattuq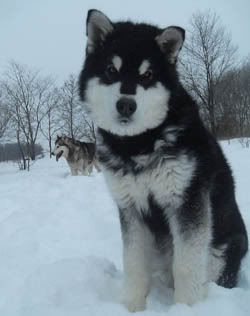 Gorgeous video of his litter and him with their pack.