Brooklyn is
Mystic Wind's Woolly Bully
(recreational sled dog, wheel position, alaskan malamute)
OFA: EXCELLENT
AM-12609E24M-VPI
Brooklyn is truly the greatest dog to ever live. Any one who knows me
knows how finicky I am about dogs, and that this dog is the only one
I have ever labeled as heaven sent.
BROOKLYN is SMART, GOOFY, INDEPENDENT, LOYAL & CUDDLY,
always THINKING & always ANALYZING complicated issues.
He is the class CLOWN.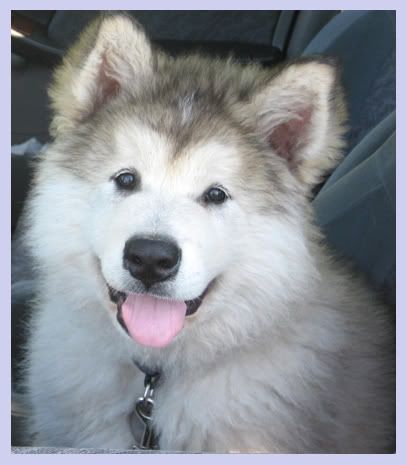 He talks as if he were human making it sometimes impossible to carry
on a conversation with him in the same room! He will keep putting his two cents in!
Anytime a stranger ends their sentence with a question while discussing
how BEAUTIFUL he is, he "wooo wooos".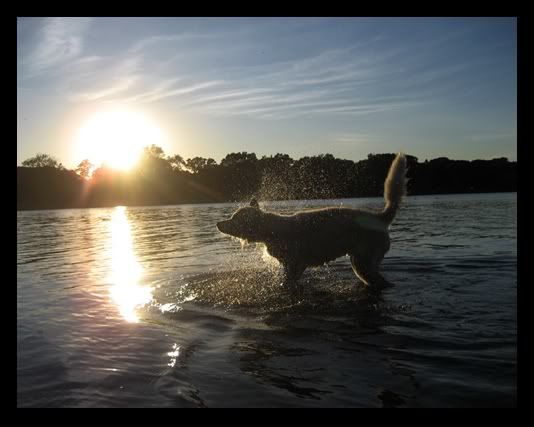 EVERY ONE LOVES BROOKLYN.
He rubs on complete strangers like a cat, his ears flat back against his head,
while looking adoringly into their eyes and wagging his tail.
His demeanor is so friendly that strangers rarely approach this 140 pound
pup with caution. Most people run right up and begin hugging and
petting him! I have never seen humans use such careless behavior with my other dogs.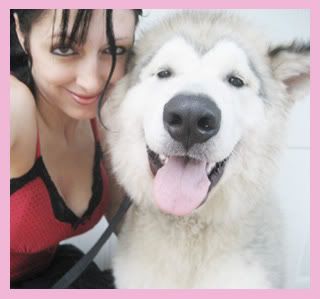 People pull over in cabs, cars, and work trucks and ask me to bring him
closer so they can get a better look! Last summer we had two police cars
pull up next to us while we were walking and ask if I could bring him to the car.
I thought for sure they were going to ask if I had a license for this beast!
Instead, they got out of their cars and began playing with him in the street,
baby talking him & smiling ear to ear! They wouldn't stop talking about
his gorgeous eyes and amazing wolf coat and what a big boy he is!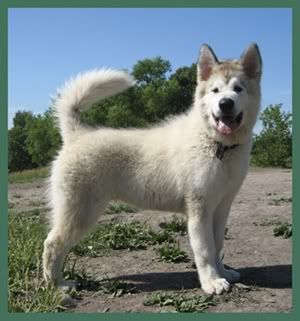 BROOKLYN can be out smarted so easily it's ADORABLE because he'll be
left contemplating what just happened for a solid 5 minutes!
He will then turn around and perform the most intelligent act
you'll ever see a dog do!

He is a COMEDIAN.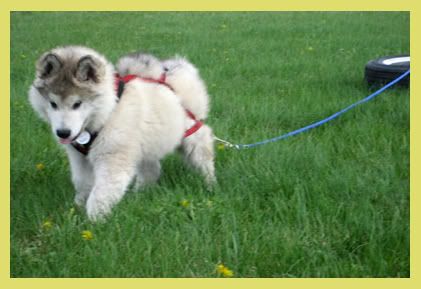 Now that I have had the experience of owning such a loyal dog, it will take
me years to choose others! I want to make sure any dog I purchase in
the future will grow up to be just like Brooklyn (but not as big!). I have had A LOT of dogs
in my life, and there is NO DOG LIKE BROOKLYN.
A TRUE WOLF COAT
In the summer, Brook's coat is white with a silver stripe down his head,
neck and back, to his tail bone.
Brook has a Sno Face.
Brooklyn has a 3 inch wolf coat, as displayed above,
where in he is 8 months old.
In many of these pictures, his puppy coat was going
through all kinds of transitional stages.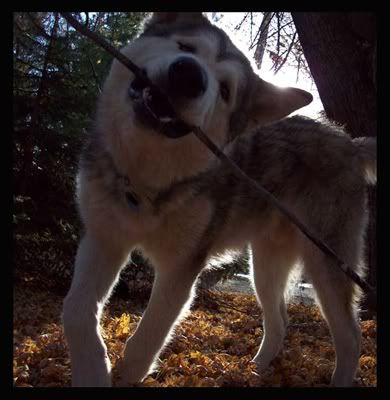 Brooklyn is a saint
I would never say this about a dog unless it were true.
I always list my dogs weeknesses as well as strengths.
See stats below.

He does not DIG, he does not leave the YARD without me even if he's
left alone, he has never chewed up a SINGLE THING that was not his,
not even a sock. He has never raided the TRASH. He has never laped
from the TOILET. He had 6 total accidents during house training.
He could be left alone in the house all day from the time he was
5 months old. He loves CAR RIDES (never gets travel sick).
He is great with CATS and KIDS.

Brooklyn is very emotionally IN TUNE with his owner.

This photo shows off his gorgeous coat, and all the various colors in it.
he is 7 months old, barely a teenager with lots of growing left to do!
Brooklyn WORRIES greatly when things are hurt or crying. lead.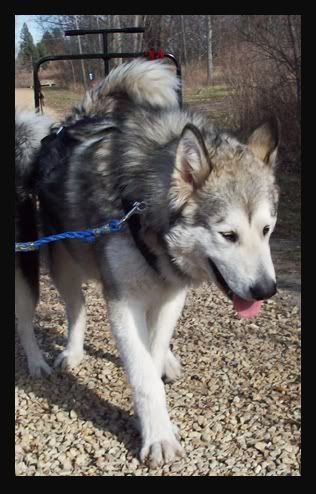 Brooklyn is 11 months below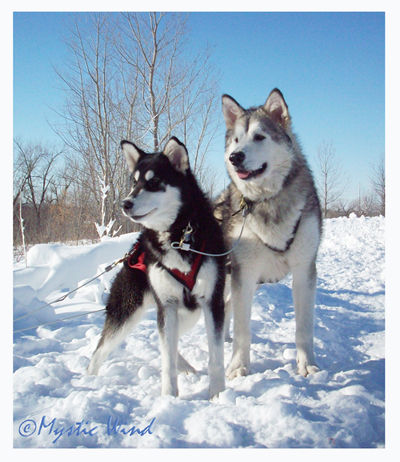 In winter, Brook's coat is amber in color.

Brook LOVES to have fun!
SNOW and WATER are his two favorite past times.
Brooklyn likes to work but it's not his favorite.
Goofying off is his favorite.
Chasing the red laser dot is his second favorite.

Because of his enormous size and lack of work ethic,
he will be pulled from the team when we begin training professionally.
Brook's Beautiful Amber Blow Coat
And begins going back to grey as winter closes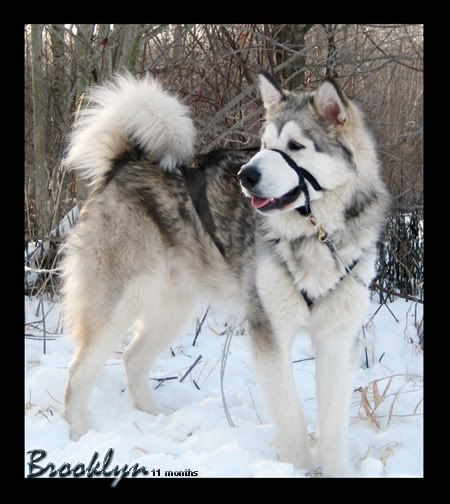 Brooklyn filling out as he turns 1 year old, 140 lbs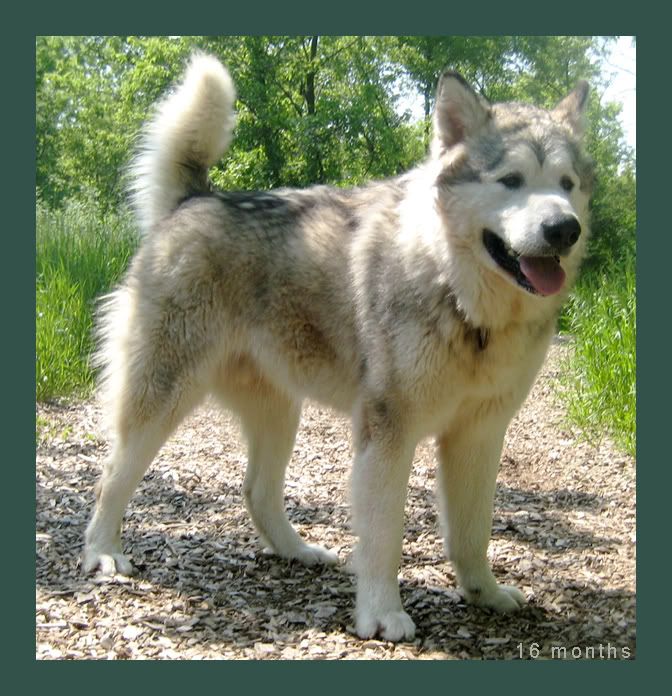 Updated photos coming...
BROOKLYN STARTS HIS CAREER
IN THE I.W.P.A. September 2008
Brooklyn is a pet Therapy dog now! Hurray Brooklyn!
Alaskan Malamute A.K.C./ U.K.C. pending


*Brooklyn will be available for stud service* Please email or call me if you are interested.
I ask that prospective bitches are screened for hip dysplasia, genetic defaults,
& that vet records, pedigrees & photographs be provided.
Email: minnesotamalamutes@yahoo.com

THANK YOU FOR STOPPING BY BROOKLYN'S PAGE
























PLEASE SIGN OUR GUEST BOOK!
email: minnesotamalamutes@yahoo.com