1 PUPPY AVAILABLE.
SCROLL DOWN FOR A VIDEO AND HER PHOTOS.
EMAIL: minnesotamalamutes@yahoo.com
PUPPY PHOTO ALBUM CLICK HERE
OR scroll down more to see each baby.
Click Here For Pricing & Details
HELP US SAVE A LIFE!
We are selling these puppies to help pay for our Beloved Witchi Tai's life saving surgery. They were bred to stay here and be on our team, but another dogs life hangs in the balance and is much more important then our own selfish desire to keep this litter and let the other die. We are keeping 1 from the litter and do not have him listed. We do not breed for profit in any way. We know these precious babies will all find great, loving, homes, and Witchi Tai will get to live! Please, please consider us right now over another breeder, it will save his life. We love him dearly and this has truly been a heartbreaking experience. Thank you thank you!
~PLEASE CLICK HERE FOR THE STORY OF LITTLE WITCHI TAI, HIS HEARTBREAKING STORY~
We have standard medium length coat female wolf-look-a-like available. We call her "WOLF" because she is nearly identical to a wolf cub (all brown and grey and beige). She is social and outgoing. NO floopy ears as an adult! She will have small, round teddy bear ears. Available to go home locally on September 11th, 2009, or via airlines on Spetember 25th 2009. All pups go home on spay & Nueter contracts and are sold as pet companions. Please contact me if you would like breeding rights (experinced breeders only and mushers are always given breeding rights to build their team) so we can discuss if she is what you would be the right fit for your breeding goals. UTD on shots, heartworm meds, and come with a folder with all their documents and health records. All puppies have been to the Vet and had health checks at birth, at 2 weeks, and will again at 4 and 6 weeks. X-rays of bone structure have been taken.
In the below video, she is the all brown and grey one with the very muddy markings; the one who cocks her head at the begining as I walk away and say, "Who's not afraid?" and then she talks back.

PLEASE CLICK HERE TO READ ABOUT SIRE & DAM & PUPPY PRICES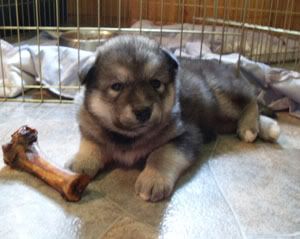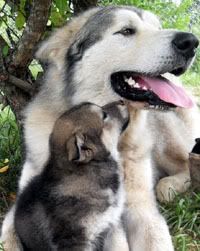 Registered/registerable (AKC, NKC, etc.), Current vaccinations, Veterinarian examination, Health certificate, Health guarantee, Pedigree, Travel crate Additional information: All of our dogs are champion and titled mushing dogs who compete in dog sledding and weight pulling competitions around the northwoods. No floppy or oversized "dumbo" or "husky" ears as adults. Both parents have small teddy bear ears. 2 year written health guarantee.
No breeding rights unles you are an active working kennel with a few titles under your own belt. Our Giants are sold as pets only, and our smaller standards are only sold with breeding rights to mushers. We do not want our dogs or our hard work, being used as money makers or **bloodline** bragging rights. Thank you for understanding.
EMAIL: minnesotamalamutes@yahoo.com